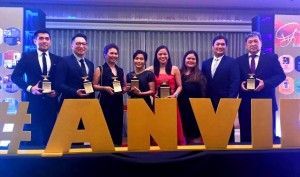 Megaworld is the most awarded real estate company at the 51st Anvil Awards held in Makati City tonight!
The company won a total of six awards, including a Gold Anvil for the entry Food Artistry at Eastwood City; Silver Anvils for entries Iloilo Bike Festival in Iloilo Business Park: On the Road to Sustainable Progress; Cause for a New Coast: Megaworld Leads LaBoracay 2015 Coastal Cleanup Drive; Real Madrid for Pinoy Football: Sports Clinics for Filipinos; Bright Lights, Bright Beginnings: Lucky Chinatown Leads Binondo's Chinese New Year Celebration; and another Silver Anvil for Megaworld Foundation's Scholarship Program.
Receiving the awards were (from L to R) Harold Geronimo, assistant vice president and head of PR and Communications, Megaworld; Jericho P. Go, senior vice president, Megaworld; Lourdes Gutierrez-Alfonso, chief operating officer, Megaworld; Monica Salomon, president, Global-Estate Resorts, Inc. (GERI); Tefel Pesigan-Valentino, senior assistant vice president & head of marketing and business development, Megaworld Lifestyle Malls; Jennifer Palmares-Fong, vice president for sales & marketing, Iloilo Business Park; Saki Mirabueno, vice president for sales & marketing, GERI-Boracay Newcoast; and Danilo Madlansakay, executive director, Megaworld Foundation.