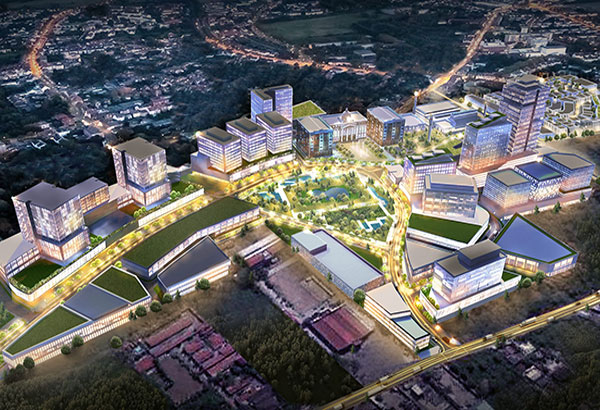 San Fernando CITY, Pampanga, Philippines – Property giant Megaworld Corp. is expecting to generate P1.7 billion from the sale of six hectares worth of commercial spaces in its Pampanga township.
In a press briefing yesterday, Megaworld Pampanga first vice president for sales and marketing Eugene Em Lozano said the company will be selling units of its Shophouse District, the six-hectare retail portion of its 35.6-hectare Capital Town project.
"We will be selling lots to those who want to build their business, and at the same time, live there," Lozano said.
Lozano said the company will be selling a total of 98 commercial lots that range from 276 to 680 square meters in size. These lots will feature three-level shophouses that can be used for businesses.
"The first two tower levels may be dedicated for the business while the topmost floor may be used for their residence," Lozano said.
Lozano said the Shophouse district will help local entrepreneurs and businesses in the Pampanga area. He added the company has already received interest from potential buyers, and hopes to sell out all the commercial spaces within six months.
Megaworld unveiled yesterday Capital Town in San Fernando, its first integrated urban township in the north.
Megaworld said it is allocating P30 billion to develop the Pampanga township over the next 10 years.
Apart from the retail component, the township will also feature BPO office towers, residential developments, civic and institutional facilities such as a school, amphitheater and even venues, mall and retail hubs and a hotel.
Megaworld said 50 percent of the township will be dedicated to BPO developments. It added that it targets to generate around 300,000 square meters of gross floor area of BPO spaces within the township.
"Once completed, Capital Town is expected to generate around 250,000 direct and indirect jobs in the BPO, transport, retail, food and construction sectors, among others," Megaworld said.
Land development, particularly for roadworks of the 35.6-hectare township at the former site of the historic sugar central of the Pampanga Sugar Development Co. (Pasudeco), will begin this year.
"The main township road, San Fernando Boulevard, will be 30-meters wide or equivalent to six lanes. traversing from Capitol Boulevard all the way to Jose Abad Santos Avenue (Olangpo-Gapan Road).
Megaworld said the township will also feature a heritage museum, which will be within a proposed mall in the development.
"Monuments of famous Pampanga personalities, particularly those who have established Pasudeco, will be erected in various parts of the township," the property developer said.
At present, Megaworld has a total of 22 township developments nationwide.
In the first quarter of 2017, the property developer posted an 11 percent rise in its net income to P2.9 billion from P2.6 billion in the same period last year.
Source: http://www.philstar.com/real-estate/2017/06/09/1708007/megaworld-builds-new-landmark-pampanga